Geopolitics
Politics

Administrative division: 24 departments (departamentos) and 1 constitutional province, which are:
Amazonas, Ancash, Apurimac, Arequipa, Ayacucho, Cajamarca, Cusco, Huancavelica, Huanuco, Ica, Junin, La Libertad, Lambayeque, Lima, Loreto, Madre de Dios, Moquegua, Pasco, Piura, Puno, San Martin, Tacna, Tumbes, Ucayali and Callao.
Economy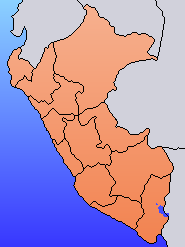 The Peruvian economy has progressively become a market economy, with important privatizations, which lasted until 1994 in the mining and telecommunications industry. In the 1980's, the economy suffered hyperinflation, diminution of the Gross National Product (GNP) and increase of its external debt. The country was excluding from the International Monetary Fund (I.M.F.) and from the World Bank during the 80's because of the non-payment of previous depts. An austerity program was set when Fujimori's government came to power in July 1990. This contributed to consecutive third year of reduction of the economic activity, but this fall stopped by the end of the year and, in 1991, the production increased in 2.4%. After the rise of inflation, due to an austerity program that eliminated subsidy of consumption products (before, one part of the price of a product was paid by the State), situation became normal and prices stop increasing considerably.
And, in December 1991, Peru had the lowest price increase since 1987.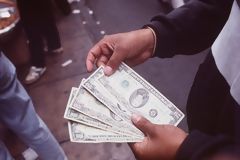 Lima got financial aid from loan organisms in September 1991, with a condition: arrange its situation by paying 14 billion dollar of delayed payments (between 1985 and 1990, former government had decided to stop the payments of its debts). Working with the I.M.F. and the World Bank in other to arrange new agreements and financial conditions, the government succeeded to stop this financial delay in March 1993, and has today an external debt of 22,4 billion dollars. In 1992, the GNP fell by 2,8%, in part because of the arrival of the marine current El Niño (hot water current) which meant a loss of 30% of fishing production; however the economy grew thanks to a strong foreign investment. This created an economy growth of 6% in 1993 and 8,6% in 1994.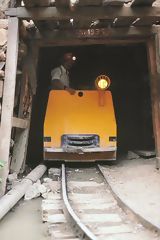 The principal Peruvian industries are metal mining, oil, fishing, textiles and clothing, food processing, cement, steel, naval construction and foundry.
Agriculture is based mostly on coffee, cotton, and sugar cane; in a second place come rice and potatoes.
You must know that Peru is one of the biggest coca producers, with 108.600 cultivated hectares.
Transports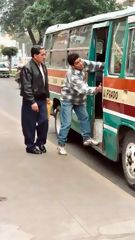 Because Peru is a big country of more than 24 million of inhabitants, the needs of transport resources are important. Lima has today a big international airport, the Jorge Chavez (one of the 236 more or less big in the country), serves the United States, Europe and Latin America. The national airlines (Aerocontinente, Aviandina, LanPeru, etc.) serve the whole country. An 18% tax is applied on domestic flights, but it can be avoid by purchasing tickets in a foreign country; any way, a local airport tax of $4 has to be paid for domestic flights.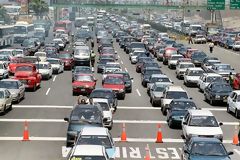 Public buses are a usual transport to travel on the 69.942 km Peruvian roads, more less in good conditions. If trips by day happen with not so much trouble, by night there is a possibility of armed robbery.
On the other hand, local buses are slow and often in very bad shape. It is usual to have to change vehicle because of a break down.
Taxis, there are a lot on the streets, they drive badly and in general are in bad conditions to.
Peruvian trains that go on 1,801 km of railroad lines go from the coast to the higher country; in the same way, they are not completely safe.
Navigation is more important in the east of the country (Amazon), and some boats act as taxis, over 8.600 km navigable ways in Peru.
The main harbors are Callao, Chimbote, Ilo, Iquitos, Matarani, Paita, Pucallpa, Salaverry, San Martin, Talara, Yurimaguas.